The project
Flare Insight's web presence was a simple site, set up when they first launched. It did the basics, but it didn't really sell them as a company. They wanted something to showcase the value they provided their clients.
There were some accessibility concerns we'd need to address too. The font used and sizes it was used at made the text content difficult to read and there were colour contrast issues which we'd need to look at in the new design.
Their content wouldn't change often, so we opted to build on top of Eleventy (This link opens in a new window or tab), an incredibly fast static site generator. This would give us great flexibility from a technical point of view as it meant we'd easily be able to expand the site in future, but at the same time get the new site up and running without delay.
Building on top of a static site generator means that the output files are just that - static. They will work on any web server! No databases, no complicated requirements - it'll just work!
Our aims
New design, more in keeping with other brand assets
Ensure accessible colour palette is used
Ensure we use adequate font weights and sizes throughout the site
Ground-up rebuild using Eleventy

(This link opens in a new window or tab)

to keep things really fast
Social media assets to match new site design
New case studies section design and build
Technical support and deployments
We began with an existing slideshow presentation deck and the current website; something to give us a bit of inspiration. The slides needed to match with the style of the website, and the website felt very 'empty'.
They were also in the middle of a brand re-haul, and keen to provide a consistent brand across platforms. This was the first thing we addressed. We took existing assets (something from the website, something from the presentation deck) and created an evolution of this, so that the new things we created didn't feel too detached from their origins, but so that they still felt new. We wanted the design to feel bold and confident.
Adding the new case studies to the site, a little bit of photography, a hint of the angles and style from the slideshow deck and a bit of bold typography we settled upon a much brighter, bolder Flare Insight.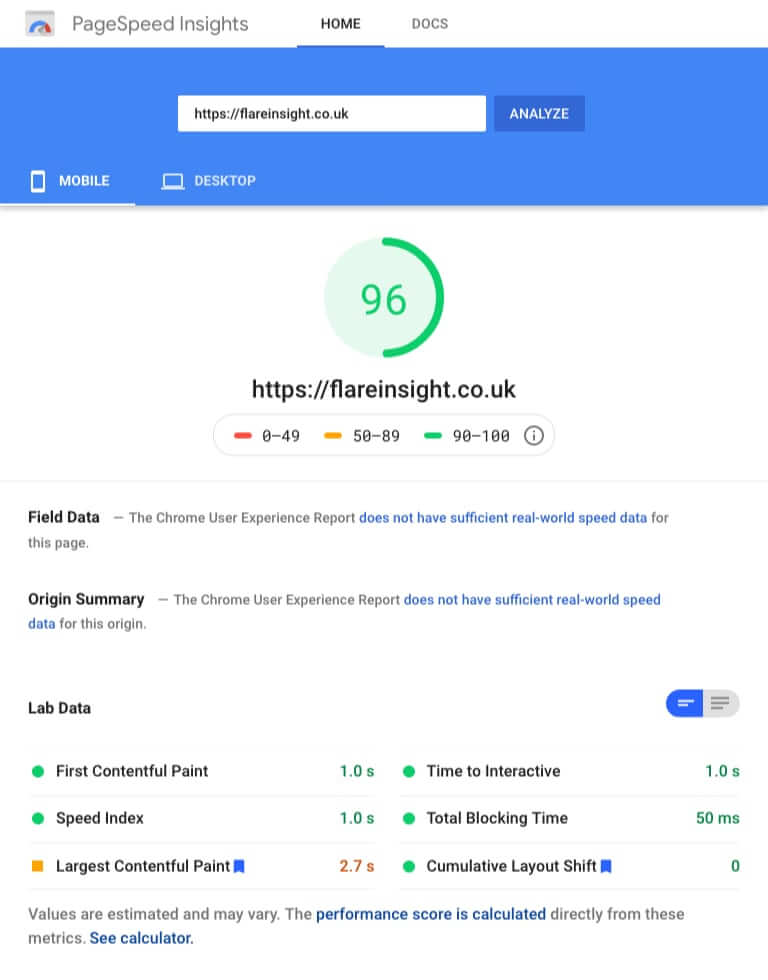 Because the previous site was without photography and was very slim, it was a very fast website to load. We wanted to ensure that when we built the new version we kept it as fast as we possibly could - even after adding photography, iconography and more style to the pages.
We have managed (so far) to get the entire website weighted at only 2.2MB (smaller than an average MP3 file!). This works out at around 170KB per page including images, icons and fonts.
We made sure browsers that understand new ways of doing things could do their part to help as well, so we set important files to 'preload'. Browsers get a list of these and work out how best to load these files quickly and before they're actually called into use on the page. Snazzy.
We ran a few Page Speed Insights on the new site - and the scores suggest we've done a pretty good job of that!
Positively beaming
Being backed by a powerful static site generator means we can expand the site much more easily in future - should Flare Insight decide they want a news section, or articles, white papers, other types of case study - or even something completely different - Eleventy gives us that power and flexibility to create incredibly fast, bespoke web sites.
Shffld did an excellent job on the site, and accommodated our feedback as our key messaging and design ideas developed. The finished product looks clean and professional, and allows us to expand content in the future.

Catriona Collier

Managing Director
We're really pleased with this site and we know we can make it even better in future. The site can grow with Flare Insight to ensure it always reflects expertise and - hopefully, in future - their reach!
Are you still here?
You've got staying power, that's for sure! Does your website say the same about you? Do you want a website that shows people you really mean business? Of course you do! I can help.